See on Scoop.it – Iconic Mind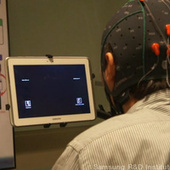 Samsung's got no shortage of alternate control methods up its sleeve. You've got your eye scroll and your air gestures, but how about full on mind-control?
Greg Mudd's insight:
Cool story but brainwave patterns are not specific enough and even those few that are usually require quite a bit of training by the user and calibration on the system side. This will still take quite a bit of time before it's ready for mass adoption by those with disabilities, let alone for the broader population.
See on gizmodo.com